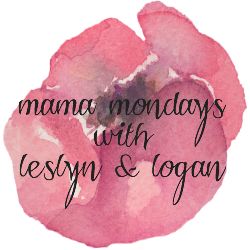 I'm linking up with Leslyn at Leslyn's Lovely Life for her Mama Mondays link up.
So much for a relaxing weekend at home where I get all the cleaning and laundry done :)  We had gorgeous weather on Saturday (about 70 degrees).  The girls wanted to take Nana and Grandpa to the corn maze to share it with them, so we ended up back there.
The bouncy pillow was a huge hit again.  They love it and I love that I can see them the whole time.
This time we remembered to get a map (so much easier with the map).
Ava had a blast skipping through the maze.
On Sunday we headed to the mall to get the girls' Christmas pictures done.  It's the earliest we've ever done them, but we have the dresses and the discounts are good now, so why not?  As always, Portrait Simple took great pictures and we had a hard time choosing the ones we wanted to get.
These were a couple of my favorites.  I love that they don't rush you through at Portrait Simple.  You have a 30 minute appointment and if they get all the pictures they want, they just keep going.  The picture of the girls wrapped up in lights was done at the end because we had time left over and the girls loved it.
After Christmas pictures and ordering our Christmas cards, we did a little shopping.  My black shoes broke last week and I couldn't find ones I loved in my size at DSW on Saturday.  Luckily, I found great, affordable black heels at the mall.  Usually when I NEED to buy something, I end up having to pay twice what I want to because I can't find a good deal.
This week should be a little crazy: I will be in a training class for work, Ella has school pictures, Ava has speech, Ella has a physical and it's our last week of soccer.  Plus, I have all that cleaning and laundry to get done :)
Thanks for reading.
~Elizabeth